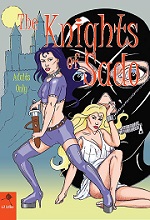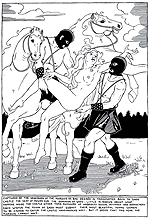 The Knights of Sado
Bondage fantasy comic
GRAPHIC CONTENT WARNING: Adults Only.
The Knights of Sado involves two sisters. One is a fair haired beauty called Desiree who is chaste and delicate, the other is called Jane, a raven haired amazon who is sexual and strong. They live in the Kingdom of Sado, ruled over by the Marquee des Bas, who holds court in Sado Castle where he indulges in all his bondage and sexual deviant fantasies by selecting the most beautiful girls in the kingdom to become hand maidens. He sends his men out to capture Desiree and bring her to the castle where he hopes to pervert her and Jane hearing of her sister's capture rushes to the castle and...

Banned by Amazon and Google Play.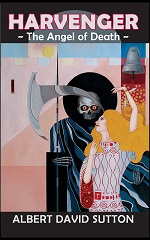 Harvenger 1:
The Angel of Death
Amazon Paperback
Amazon Kindle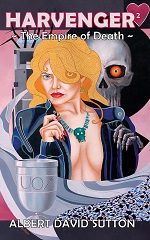 Harvenger 2:
The Empire of Death
Amazon Paperback
Amazon Kindle